To Our Valued Customers:
To protect the health and safety of our employees, customers, and business partners, our showroom is temporarily closed to the public. We continue to provide customer service via telephone during the reduced hours of 8AM to 4PM Monday through Thursday, and 8AM to Noon on Fridays. As a supplier to Hospitals, Medical Facilities, Clean Air Solution providers, Food Service vendors, and many other essential industries, we will remain operational to help provide an uninterrupted supply chain to these critical infrastructure businesses. Our production, custom shop, and shipping staff have been reduced to a minimum of widely spaced people, but we continue to ship daily, and stand ready to assist you during the current crisis.
The Blastgate Co.
Home

Pneumatic All Galvanized or Stainless Steel Blast Gates
These fabricated gates use the same air cylinder and mounting as the cast aluminum, except the gate is all galvanized or stainless steel for high temperature food or corrosive application.
Pneumatic Galvanized Steel Blast Gates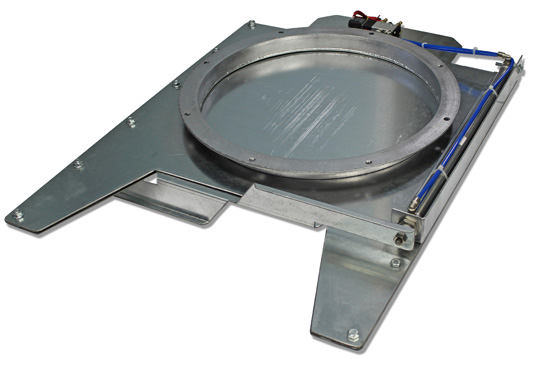 Double Cylinder shown
(Click on image for larger view)
Pneumatic air valve and electric solenoid are not included.
For a shorter more compact blast gate, a double cylinder type is available. Please call for pricing.
Angle ring connnections are also available.
.pdf Spec Sheet 2-7"
.pdf Spec Sheet 8-24"
Galvanized Steel Body
SINGLE CYLINDER 2-7"
Size
Part #
Price
Details
2.00"
BGPN02G
$461.20
Galvanized
3.00"
BGPN03G
$465.09
Galvanized
4.00"
BGPN04G
$468.10
Galvanized
5.00"
BGPN05G
$473.37
Galvanized
6.00"
BGPN06G
$487.64
Galvanized
7.00"
BGPN07G
$500.21
Galvanized
DOUBLE CYLINDER 8-24"
8.00"
BGPN08G
$550.31
Galvanized
10.00"
BGPN10G
$566.89
Galvanized
12.00"
BGPN12G
$650.22
Galvanized
14.00"
BGPN14G
$681.62
Galvanized
16.00"
BGPN16G
$745.89
Galvanized
18.00"
BGPN18G
$901.60
Galvanized
20.00"
BGPN20G
$1030.70
Galvanized
22.00"
BGPN22G
$1102.80
Galvanized
24.00"
BGPN24G
$1211.22
Galvanized
Pneumatic Stainless Steel Blast Gates
304 Stainless Steel Body for high temperature food or corrosive applications.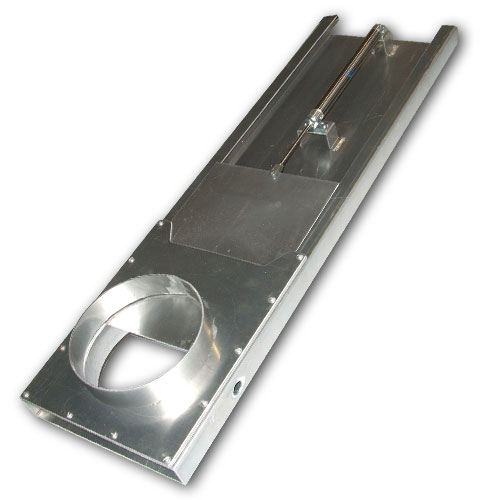 Single Cylinder shown
(Click on image for larger view)
.pdf Spec Sheet 2-7"
.pdf Spec Sheet 8-24"
304 Stainless Steel Body
SINGLE CYLINDER 2-7"
Size
Part #
Price
Details
2.00"
BGPN02SS
$487.17
304 Stainless
3.00"
BGPN03SS
$492.02
304 Stainless
4.00"
BGPN04SS
$501.55
304 Stainless
5.00"
BGPN05SS
$514.60
304 Stainless
6.00"
BGPN06SS
$533.41
304 Stainless
7.00"
BGPN07SS
$549.47
304 Stainless
DOUBLE CYLINDER 8-24"
8.00"
BGPN08SS
$586.13
304 Stainless
10.00"
BGPN10SS
$745.00
304 Stainless
12.00"
BGPN12SS
$869.20
304 Stainless
14.00"
BGPN14SS
$954.60
304 Stainless
16.00"
BGPN16SS
$1130.20
304 Stainless
18.00"
BGPN18SS
$1590.30
304 Stainless
20.00"
BGPN20SS
$1980.61
304 Stainless
22.00"
BGPN22SS
$2184.00
304 Stainless
24.00"
BGPN24SS
$2419.00
304 Stainless