HD Custom Manifolds
Our custom shop can fabricate custom designed Heavy Duty manifolds of nearly any size or configuration. Computer Aided Drafting and Fabrication allow us to produce the highest quality products with short turnaround times. Our HD Heavy Duty duct system is designed for removal of large or heavy materials or abraisive media.
HD CUSTOM MANIFOLDS

Click on image for larger view
Galvanized 18 ga, 16 ga, 14 ga & 12 ga
Used mostly over multi-inlet machines
Galvanized, stainless steel, and black iron available
Priced by customer specifications
Specify all dimensions
Contact our sales team for a quote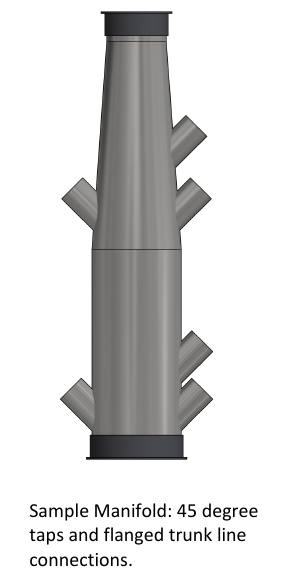 Click on image for larger view
HD MANIFOLDS .pdf Spec Sheet
HD CUSTOM MANIFOLDS
DIA.
GA
Part No.
Price
Priced per your specification.
Please call for availability and pricing.
TO ORDER CALL 877-904-4022
PLEASE CALL OR EMAIL US FOR HEAVY DUTY PRICING