HD Automatic Blast Gates
HD Automatic Blast Gates use pneumatic air cylinders controlled by electronically operated solinoid valves to provide automatic or remote control operation. Our HD Heavy Duty duct system is designed for removal of large or heavy materials or abraisive media.
HD AUTOMATIC BLAST GATES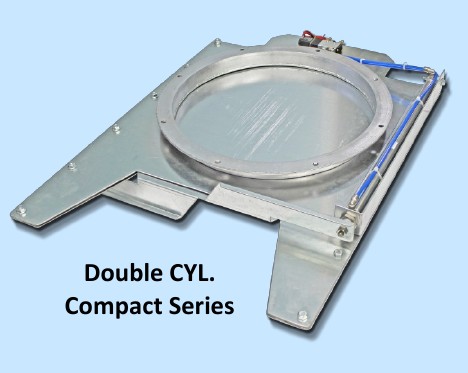 Click on image for larger view
All galvanized, heavy duty 12 ga Body, 12 ga slide blade
Pneumatic cylinder w/ internal magnet for use with signaling limit switch included. Signaling limit switches sold separately.
Air valve with speed controls and fittings included
Electric coil/solenoid included. Please specify voltage, 110VAC, 220VAC or 24VDC, 24VAC
Vanstone ends with rotational angle flange standard
Submittal drawings available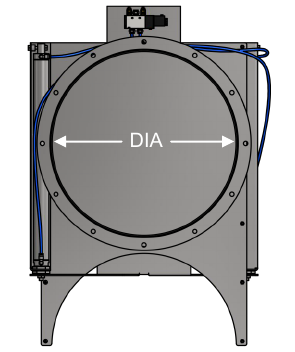 Click on image for larger view
BG Part Number Explanation

Part
No.
Power
Diameter
08-24
Finish
Ends
Pneumatic
Galv.
Ring
BG
PNC
AA
GA
R
HD Automatic Blastgates
.pdf Spec Sheet
HD AUTOMATIC BLAST GATES
DIA.
GA
Part No.
Price
08"
12
BGPNC08GAR
CALL
10"
12
BGPNC10GAR
CALL
12"
12
BGPNC12GAR
CALL
14"
12
BGPNC14GAR
CALL
16"
12
BGPNC16GAR
CALL
18"
12
BGPNC18GAR
CALL
20"
12
BGPNC20GAR
CALL
22"
12
BGPNC22GAR
CALL
Other sizes and gauges are available.
Please call for availability and pricing.
TO ORDER CALL 877-904-4022
PLEASE CALL OR EMAIL US FOR HEAVY DUTY PRICING