To Our Valued Customers:
To protect the health and safety of our employees, customers, and business partners, our showroom is temporarily closed to the public. We continue to provide customer service via telephone during the reduced hours of 8AM to 4PM Monday through Thursday, and 8AM to Noon on Fridays. As a supplier to Hospitals, Medical Facilities, Clean Air Solution providers, Food Service vendors, and many other essential industries, we will remain operational to help provide an uninterrupted supply chain to these critical infrastructure businesses. Our production, custom shop, and shipping staff have been reduced to a minimum of widely spaced people, but we continue to ship daily, and stand ready to assist you during the current crisis.
The Blastgate Co.
Home

Galvanized Steel Blast Gates
Galvanized steel blast gates are constructed the same as our stainless steel gates. These gates are more economical than stainless steel when elevated temperature or corrosion resistance is not required. Bolt together body allows disassembly for cleaning. Heavy Duty 12 ga. body and slide blade.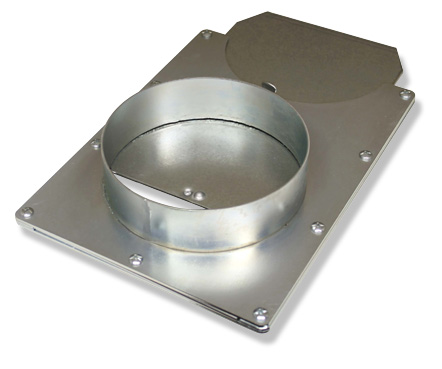 (Click on image for larger view)
.pdf Spec Sheet
| Size | Part # | Price | Details |
| --- | --- | --- | --- |
| 2.00" | BGG02C | $120.55 | With Collars |
| 3.00" | BGG03C | $123.70 | With Collars |
| 4.00" | BGG04C | $127.18 | With Collars |
| 5.00" | BGG05C | $131.11 | With Collars |
| 6.00" | BGG06C | $149.95 | With Collars |
| 7.00" | BGG07C | $154.92 | With Collars |
| 8.00" | BGG08C | $179.30 | With Collars |
| 9.00" | BGG09C | $195.86 | With Collars |
| 10.00" | BGG10C | $216.10 | With Collars |
| 12.00" | BGG12C | $325.03 | With Collars |
| 14.00" | BGG14C | $376.80 | With Collars |
| 16.00" | BGG16C | $468.96 | With Collars |
| 18.00" | BGG18C | $718.75 | With Collars |